BUZZY NASHVILLE-BORN ARTIST-WRITER SIGNS LABEL DEAL WITH
BIG LOUD RECORDS / SONGS & DAUGHTERS
SETS SEVEN-TRACK TASTE OF HER UNIQUE BRAND OF COUNTRY MUSIC,
INTRODUCING LAUREN WATKINS, FOR RELEASE ON APRIL 21
FIRST TWO SONGS "SHIRLEY TEMPLE" AND "CAMEL BLUES" OUT FRIDAY (4/14)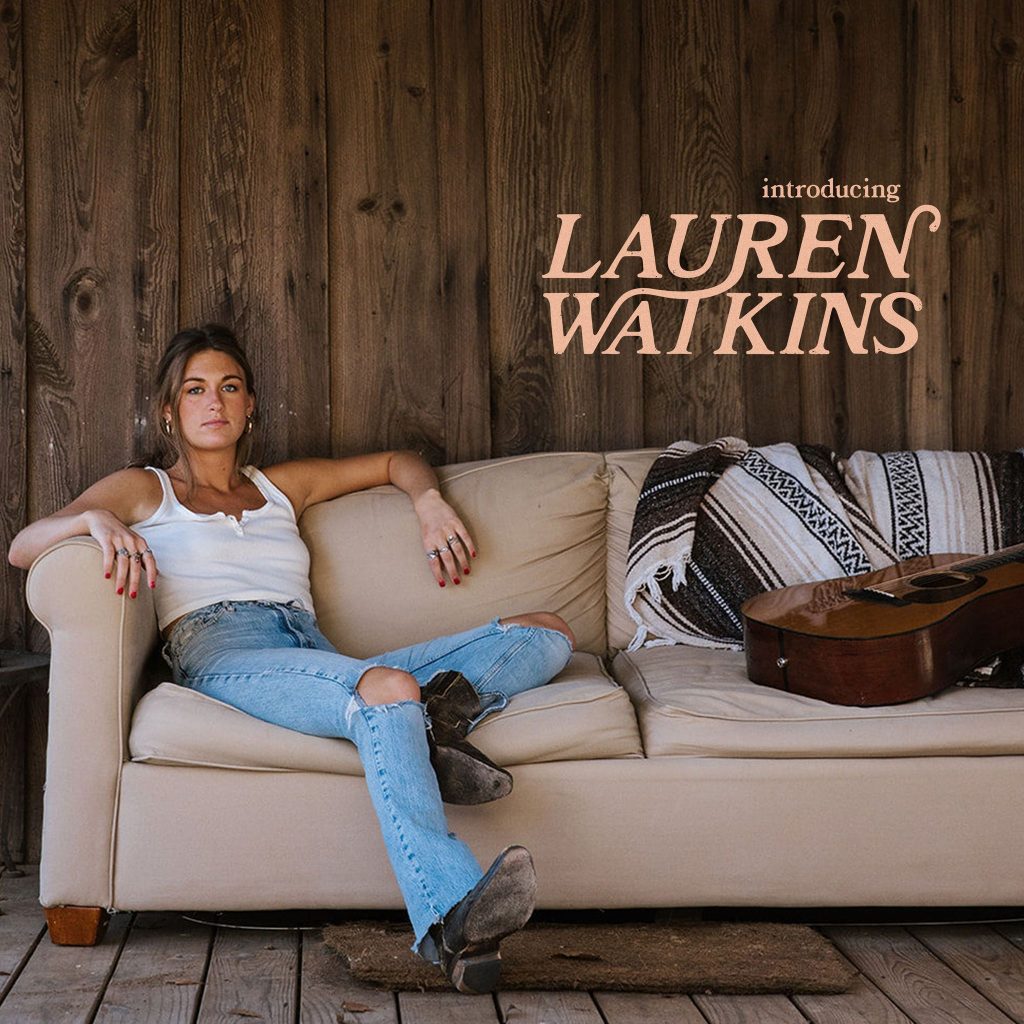 NASHVILLE, TENN. – Introducing an undeniable, multi-faceted country talent today, Big Loud Records / Songs & Daughters are honored to announce the signing of Nashville-born artist-writer Lauren Watkins to their roster of recording artists.
"Country music has been one of the biggest parts of my life for as long as I can remember. And all this time I've had this vision and dream in my head of what it would look and sound like when I finally got to make music of my own. Songs & Daughters and Big Loud have given me the space and the time to actually do it," Watkins shares. "These songs were always gonna exist because they're just my life in melodies. Having a label that believes in them and believes in how these songs can reach people is the biggest dream come true. I'm grateful they're giving us – me and my songs – a chance."
"Lauren Watkins is a rare talent," says Big Loud CEO / Partner, Seth England. "We've been quietly working on what we believe will be one of the most exciting new artists in our format for about a year, listening to the music she's turned in and pinching ourselves at the incredible poetry and musicality. It's a privilege to be part of her team of champions and advocates."
"Everything about Lauren's writing and voice is a perfect representation of who she is as a person – effortless and unique," adds Songs & Daughters label head Nicolle Galyon. "There really is no limit to where her songs will take her and I'm so excited for the world to get to hear what we hear."
Raised in south Nashville in a home with three sisters, Watkins grew up listening to a rotation of classic country and Southern rock, heavily influenced by Sheryl Crow, Miranda Lambert, Alan Jackson, Kenny Rogers, George Jones, Eric Church, Lynyrd Skynyrd, The Chicks, and more. Drawn not just to country's sound, but to its storytelling, Watkins spent her college years at Ole Miss playing acoustic sets at hole-in-the-wall dives and piecing together a lyrical style all her own: hard-edged, no-frills truth telling, clever in spirit and potent in strength.
Honing an artistic sound that's both reverent of the genre's roots and in lockstep with where it's headed next, Watkins will debut her take on country music with a self-penned, seven-song preview set, Introducing Lauren Watkins, out April 21. Drenched in authenticity and rife with barstool charm, Watkins' sampler bleeds ragged-edged grit, textured with the Tennessee limestone gravel in her voice and grounded in unassailable lyricism, best taken with a grain of salt and a shot of tequila.
"Although these songs have been written over the past few years, I feel like they've been in the making my entire life," Watkins says. "My experiences have written these songs; there's not a single word in them that I haven't felt, seen, said, or done. It's all real life. And I hope people can relate to that and feel like we know each other."
Introducing Lauren Watkins Track List
1. Sleeping In My Makeup (Lauren Watkins, Tofer Brown, Lauren Hungate, Meg McRee)
2. Camel Blues (Lauren Watkins, Jonathan Gamble, Lauren Hungate, Matt Morrisey)
3. Anybody But You (Lauren Watkins, Rodney Clawson, Mark Holman, Ernest Keith Smith)
4. Grain of Salt (Lauren Watkins, Andrew DeRoberts, Lauren Hungate)
5. Shirley Temple (Lauren Watkins, Nicolle Galyon, Meg McRee)
6. Ole Miss (Lauren Watkins, Adam James, Mikey Reaves)
7. Dark Places (Lauren Watkins, Shane McAnally, Caroline Watkins)
All songs produced by Joey Moi
Previewing the set this week, Watkins will release a two-song teaser this Friday (4/14) with her first-ever releases, "Shirley Temple" and "Camel Blues." In the meantime, get to know Lauren here.
"I'm so proud of these songs. I believe in country music and good songwriting, and I hope that people believe it's still alive when they hear this work," Watkins adds. "I just want to be a vessel for these words and melodies to move people the same way country music has moved me and shaped parts of my life. Mainly, I want to write about real things that people feel. I think we're all out here thinkin' and feelin' the same things most of the time, it's just a matter of who's willing to say it."
ABOUT LAUREN WATKINS
Drenched in authenticity and rife with barstool charm with an addictive, Tennessee limestone gravel in her voice, Nashville-born and bred songbird Lauren Watkins writes, breathes, and lives country music. The 23-year-old original grew up on the outskirts of Guitar Town, mesmerized by a jukebox rotation of country music, from outlaws like Willie Nelson and Sheryl Crow to chart-toppers Eric Church, Miranda Lambert, and Chris Stapleton. Moving back after four years at Ole Miss, Watkins' unyielding, turn on a dime lyricism quickly caught the attention of GRAMMY-nominated multi-hyphenate Nicolle Galyon, who signed her to publishing and recording contracts with Big Loud Records / Songs & Daughters almost instantly. Honing in on a sound that's both reverent of the genre's roots and in lockstep with where its headed next, she's introducing her take on country music April 21 with seven-song teaser set, Introducing Lauren Watkins. Catch her touring the new music on the road with labelmate Lily Rose this weekend, and at notable fairs and festivals including Carolina Country Fest, Biloxi Crawfish Boil, Nashville's CMA Fest, Faster Horses, Watershed Festival, TidalWave Music Festival, and more all summer long.
CONNECT WITH LAUREN WATKINS
WEBSITE | INSTAGRAM | FACEBOOK | TIKTOK | YOUTUBE
Media Contact
Jess Anderson | Big Loud Records